This is a Sponsored post written by me on behalf of
éclos Skin Care
for
SocialSpark
. All opinions are 100% mine.
Product Information:
Eclos products feature Apple Stem Cells which have been extracted from a rare Swiss apple. These have shown tremendous ability to stimulate the growth of new skin stem cells
, encouraging the skin to behave like younger skin. Plant extracts vitamins and anti oxidants combine with Apple Stem cell technology to minimize the appearance of fine lines, wrinkles and tired skin.
Similar products used to only be available at specialty department stores and had that special price tag to match. Now
éclos Skin Care
has brought the same type of high quality product to mainstream stores at an affordable price.
I received a eclos Anti Aging Skin care starter kit to try and have been using it for about a week and a half now. So far I have really enjoyed the products and feel like they are making a difference in the appearance and feel of my skin. I'm 36 (shhhh!) and I work long days, sometimes leaving the house at 7 am and not coming home til 8 pm. My skin gets tired just like my body and I think eclos is helping it wake up.
Here are the products I have been using:
Facial Cleanser Skin Prep
: Love this cleanser, I've tried quite a few and this one is different. It isn't so watery that it runs right out of your hands before you can get it to your face. It's a medium thickness opaque gel, I use it morning and night. I find that nickel size drop does the trick to get my skin clean and prepped for the other steps.
Instant Radience Facial Scrub
: Small sand like granules that remove the dead skin cells and leave your skin feeling fresh. Doesn't irritate my face or leave me red and raw. Also enhances cell turnover.
Cellular Activator Face Serum
: Meant to rehabilitate aging skin and to regnerate cells. Goes on super smooth and actually feels sort of silky. A little goes a long way
Moisture Therapy Regenerative Cream
: Works best used ver the Cellular Activator Face Serum, reduces lines and wrinkles. This cream smells great, goes on smoothly and absorbs well, In addtion to reducing fine lines I think it is doing wonders to keep my dry areas from being flaky.
Restorative Eye Cream
: Meant to be used on the soft, delicate skin around the eyes and reduce fine lines and increase moisture content. My eyes have always been a sore spot with me, I hate my dark circles and have recently started to notice a little bit of a papery look. The Restorative cream seems to be helping my skin look firmer and it doesn't make my eyes burn, if it gets rid of my dark circles I'd vote it for president.
Skin Renewal Clay Mask
: The mask is designed to absorb dirt and oils that get stuck in your pores. Use twice weekly for maximum benefits. I enjoy this mask quite a bit, it didn't irritate my skin and lately I've been breaking out like a teenager before prom. This has really seemed to help clear that up.
Bonus is the Terry Cloth headband, keeps your hair back so you don't end up with clay mask or anything else gunked in it and its super comfy.
The left picture is before and the right is after about a week and a half. Neither have make up.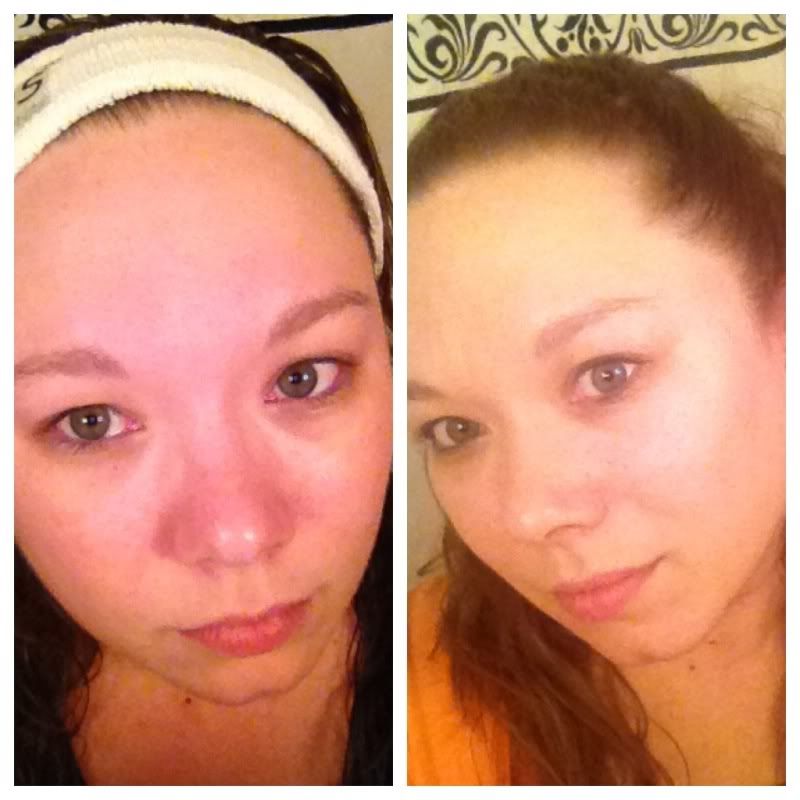 One reader is going to win the exact same starter kit I received. To enter just leave a blog comment telling me the product you are most excited to try. That's it!
Contest open to US only, must be 18+ to enter. Giveaway will end on May 30th at 11:59pm EST. Winner to be drawn by random.org and will be notified by email. Must respond within 48 hours r a new winner will be drawn. If your email is not attached to your profile please leave it in your comment, if I can't reach you, you can't win.