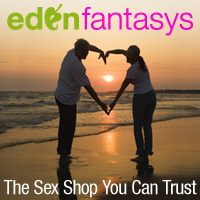 ***Whoop, Whoop, ALERT! This is one of those 'grown up' posts that features mild adult content. So if you are easily offend or under the age of 18, just click the little red X in the top right corner***
It's really no secret that I adore Eden Fantasys. This really isn't the first time I have mentioned them, and I am really hoping you have taken my previous advice and checked them out! They are a great place to find all you need to make you and your significant others wildest fantasys come true!
A secure and taste full adult shop website with such a huge selection you won't know where to begin. Have I mentioned the uber discreet shipping and billing? Or the speed of the shipping? Seriously, it's just short of miraculous.
Young or mature, novice or pro, Eden Fantasys caters to them all. You purchase anything from Sexy Lingerie, condoms,
erotic books
, dvds, sex toys for men or women, vibrators, dildos and even games! Currently I have my eye on the Liberators, but I just can't decide which one to get!
I bet you didn't know that Eden also offers a Free Gift with ANY purchase and free shipping on orders more than $59. Free Gift? on ANY order? Who does that? Even more amazing, right now Eden is offer a Free Bullet, just for signing up for their newsletter! Make sure you also Like them on Facebook to be part of the "
Friends with benefits
" which basically means you are first to know about all the killer deals they offer.
I've reviewed for Eden but I am also a paying customer, so you know I mean it when I say you totally should check them out (you should have checked them out 2 paragraphs ago, why are you still reading?)