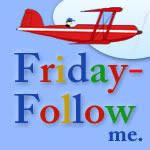 Wow, I really can't believe this is the 10th week of Friday Follow me! Mostly because that means I have been blogging for longer than 10 weeks which shocks me! I feel like I just started my blog and am amazed that I have been at it since the last week of February. Holy Crap!
If you haven't hooked up with FF click on the button to visit the site, read the rules and link up!
If you are visiting from Friday Follow, make sure to leave a comment and I promise to follow back!
Of course my Friday is not complete unless I hook up the crazy boobielicious Jana at
Boobies, Babies & a Blog
for her Fawk you Friday! Jana says that Fawk is not a bad word and that it is okay to use it (ah hem, not that much of anything actually stops me from using bad words) Make sure you go to her site and link up, cuz really, I don't care if you are a man, woman or troglodyte everyone complains once in awhile!
My Fawk You's for the week"
~Fawk You Shell station. Since you closed I realized that I live in a ONE GAS STATION town and that gas station refuses to accept any payment except cash! Um hello? 2010 anyone, who carries wads of cash around? I tend to run my tank till the fuel light says get gas or pay the consequences and I use my debit card for everything. WTF?
~ Fawk you to my stupid sister and her stupid husband who can afford new tattoos and new "rims" for his car but my 10 year old niece has no school clothes or supplies. Assholes. Looks like Aunt Carrie will be going school shopping.
~Fawk you to this face melting heat. I'm ready for some nice 70 degree weather already.
~Fawk you K105. If I have to listen to "Lover, Lover" or "Rain is a good thing" one. more. time. I may throw myself in front of one of the 8984731325 trains that pass by my office daily.
~Fawk you to above mentioned trains because I have to park next to the tracks and my car is covered in dust inside and out constantly. The windows are up, how DOES that dust get inside? OH, and lay off the damn whistle, if I'm laying on the tracks it's because I heard Lover Lover again and I'm not going to move so just SHUT UP